We've all noticed the choker trend is extremely in right now. It's been in style all summer and we've already seen it transition into Pre-Fall fashion. It's easy to go with the simple velvet look but with so many styles and price points to choose from, why not have some fun! Here are some different ways to wear your choker this Fall so you can remain fashion forward.
The wrap around choker is a great look for day-to-day wear. It can dress up any outfit easily. Just pair your choker with your favorite pair of jeans and a white shirt and you can instantly look stylish with very minimal effort. BaubleBar has a lot of great options for very affordable prices.
You can also go for a more simple daytime look if your outfit is already a statement. You can splurge on a simple choker that you can easily wear everyday. This Gucci gold-platted choker is a great investment piece if you're someone who will rock the trend daily.
Revolve also has some great looks for every day wear that aren't as pricey but do the trick just as well. A simple stated piece is the perfect way to tie an outfit together for your daily errands or a casual brunch with friends.
Layering is also a great idea if you have a piece you want to wear daily then you can have the option to add another choker to the look for certain occasions. This look from BaubleBar is the perfect combination of a tie choker and statement choker that blend perfectly together for a great price.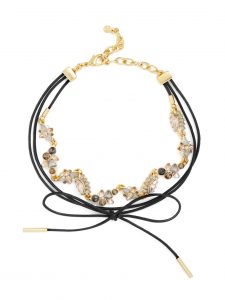 You can also layer with more expensive pieces for a nice night out. Adding the choker look to a more sophisticated gown can instantly add a trendy twist on a classic look. These gold looks from Jennifer Fisher are great investments that you can always wear even when the fad wears out.
Statement chokers with a big embellishment are also a fabulous look for a sophisticated night out. Pairing a simple dress with a statement piece is a great idea if you want your outfit to be remembered. Erickson Beamon has tons of great looks; they are on the pricier side but worth the investment for a statement piece.
If you want to make a statement but play it a bit on the safer side, a more simple jeweled choker is a great look that you can wear for a night out or to dress up an outfit during the day. This look from BaubleBar is a personal favorite and looks like an investment piece without the larger price tag.