After looking at the pre-fall clothing trends for this upcoming season, I've noticed a lot of similarities in Fall 2015 shoe trends. Shoes in mode are equally as important as the clothing that will be in style because after all we always want to be in style from head to toe!
Velvet seems to be the biggest trend appearing this season. I've seen new looks at every price point with various styles of shoes from flats to pumps. This look is a great way to transition from summer to fall as it starts bringing some warmth to your outfits. This Victorian inspired pair from Alberta Ferretti is a great way to add some flare to your outfit and ring in the beginning of fall.
Pointed shoes with light lace ups seem to be staying in fashion this season. I love a great pointed toe because it adds a sleeker look to any outfit weather it's daytime or nighttime attire. Pairing a show like these from Aquazzura with jeans, for a daytime look, can elongate your legs or with a nice skirt or pant can complete your outfit's overall affect.
As we saw earlier in clothing trends, patchwork is definitely going to be a big theme for the fall. We've seen this style on boots and flats combined on various runways. Combining different fall colors on your shoes make them sure to pop out and add a touch of flare to any outfit. We often times get stuck wearing the same neutral colors throughout the fall, so a statement shoe like these from Pucci are a great way to make your outfit pop.
Metals also seemed to make an appearance on various runways for fall fashion. They're a great look to mix and match with as their metallic coloring works with almost any outfit. A great edgy shoe like this one from Dries Van Noten can dress up any outfit and give your overall look some spice.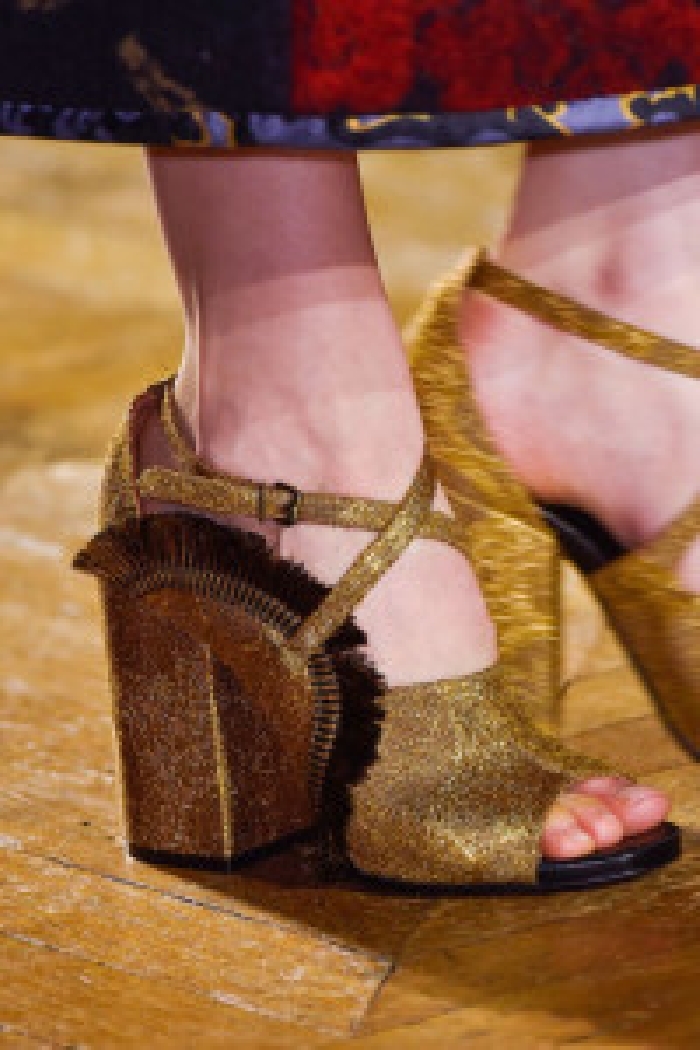 Mary Janes have also been seen on various runways bringing back the 60's mod look we saw in clothing trends. This is a great shoe for day to day wear; their thick heel and tight strap make them comfortable to walk in for work or even everyday errands. These shoes from Marc Jacobs are a great day to nighttime look as they can be paired with almost any outfit and are highly practical while remaining delicately feminine.
Last but not least, a huge trend I've noticed on the runway may not be everybody's cup of tea but surely makes for a great statement piece. Fur has been a trending look for several designers' new lines including these from Brunello Cucinelli. This may not be the look for everyone as it is not the most practical style to wear but it certainly makes any outfit stand out and adds a touch of high fashion to even the simplest of outfits.