Fall is my absolute favorite season! It is the time where the smells, the landscape, the foods and the fashions change. When I was living in New York I could not wait to transition my summer wardrobe to wooly or cashmere sweaters, light weight jackets, and best of all BOOTS! Now that I live in tropical Miami, that transition starts a bit later in the season and is done rather strategically to avoid being so hot. When it comes to transitional
fall style
, there are simple tricks for everyone no matter what climate you live in. Read below for some quick fixes to feel the change in the air and still be appropriately dressed for the season.
Wear a tee underneath your summer slip dresses, paired with a denim jacket or some of fall's new styles like colored leather or camo print. This season has great jacket styles to make a quick and easy addition to your overall look.
Pair your cropped white pants or lighter weight printed pants with a light weight cashmere sweater. This look is easy to pair with almost any style boot.
Same goes for your wide legged floral or pin stripe pants, pair them with a wooly over sized sweater and sneakers. You can also do this look with a fitted blazer and boots.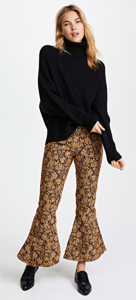 Pair your thigh high boots with mini skirts or dresses. You can also wear a cashmere sweater with your skirt or even over your dress to make it look like separates.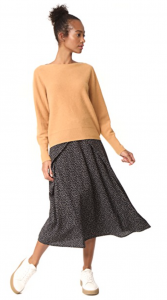 There are some trends people think you must put away for fall but if styled properly, you can still work with it. Belt your long tunic dresses or put a cropped sweater over them then pair with jeans. If you want to be really fashion forward, you can still wear white shoes/boots during fall with the right outfit.
If you are a simple jeans and tee kind of gal, try incorporating the
maximalism
trend with colored bags with hardware, big and colorful jewelry, or a great little sequin jacket or shoes.