Holiday season is all about festive cheer but by the end of it some of us just need a relaxing vacation. In the midst of holiday shopping, it's easy to put your getaway shopping on the back burner but we can't forget to travel in style. Here are some looks for different destinations that will make you the most stylish tourist on the trip.
Tropical Vacation:
First thing is first, you need a great assortment of bathing suits for your beach vacation. A variety of two pieces, one pieces, and something in between is a good bet so you feel comfortable every day of your trip.
Beach bags are easy to have fun with so make yours stand out amidst the rest. You need something big enough to carry all of your belongings but trendy and practical can go hand in hand.
Same thing goes for hats – you want enough coverage to protect yourself from the sun but something unique to complete your outfit at the same time.
As I've discussed many times before, sunglasses are essential to completing any outfit. You may want to bring a few to complete your different looks but if you like to stick to just one pair, make sure it's a neutral color that can go with any outfit.
When packing for beach vacations we focus on the day time wear but we also need to dress to impress at night. Casual yet classy is always the answer for tropical destinations: a great romper or loose fitted dress with colors to complement that new tan is a great look to rock while by the ocean.
Ski Vacation:
Jackets are essentials for a getaway in the snow. Puffer jackets that are warm and trendy are very hard to find but if you look hard enough you can find some great ones. Try stores like Intermix for unique takes on winter wear.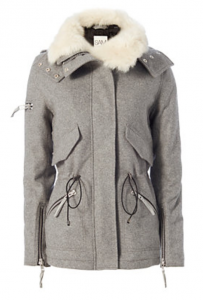 You also need great coats for night time when you aren't hitting the slopes. Fur is always the way to go for your Aspen or Vail retreat. Even if you don't want to splurge on the real stuff there are several well made faux fur options that complete a look all the same.
Just like jackets, good snow boots that are still tasteful are very tricky to find. Sorel is a good brand to look at for dependable shoes that will complete your look.
Wraps are also essential for lounge wear while in your cabin on days you decide not to brave the cold. Something comfortable and casual is the perfect look to lay by the fire with the ones you love.
Hats are also a necessity for your ski vacation. Whether it's a beanie or a trapper hat, there are plenty of options to keep you warm and looking chic all at the same time.