Let's be honest, one of the best parts about this time of year is our excuse to go shopping! Gift giving throughout  the holidays is supposed to be fun so don't stress out unnecessarily trying to find unique gifts for everyone. Here are a few different ideas for everyone on your list that won't break the bank and will be sure to leave an impression.
Cute kitchen supplies is a safe bet most of the time for those who like to cook. Pick up something practical with a twist like these pineapple measuring cups or decorative bakeware from Anthropologie both under $50. A set of baking supplies can also be a great collective gift for a family.
A festive teapot is also a great family gift that multiple people can enjoy. If you aren't sure what to get someone, resorting to something practical is always a good idea because you know they are sure to use it.
For your friend who likes to sit back and relax, a bath time soap set is a great idea they are sure to enjoy. Lush has several different gift boxes at all different price ranges that make body soaps a new level of fun.
We all have that friend who loves their cocktails, so treat them this season and give them a reason to indulge. A fancy bottle opener, cocktail shaker, or set of wine glasses is great gift they are sure to use.
These cocktail napkins from Neiman Marcus are also a great find and adorable gift for the home.
For those in Miami, you can't go wrong with fun pool inflatables for kids. SunnyLife makes an assortment of creative floaties that everyone is sure to enjoy. On the flip side – for your friends in colder climates – Gift Boutique makes adorable snow tubes for excellent family fun. Both under $50 and sure to be a good time.
For your OCD friend who needs to have everything organized in 2017, a personal planner is the way to go. You can get a gift certificate to www.personalplanner.com where they can make their planner exactly to their liking. This website is great and a much more affordable alternative to Erin Condren with planners starting at only $30.
The fashionista inside of me can't help but fawn over these adorable children's gifts. These coloring books and dolls from KAHRI are hilariously adorable and make for great gifts for your most stylish friend's kids.
Card cases are always a nice gift if you want to get something on the nicer side but still within price range. Alice+Olivia and Patricia Chang make unique card cases for under $100 that make for great gifts for several people on your list.
A nice set of pajamas is a great gift for teenagers or friends' kids that you are having trouble finding something for. Eberjey makes quality pjs right at $100 that are super comfy and cute.
Coffee Table books are also a great gift that you can make personal by finding a topic that is specific to the person you are gifting. A topical fashion, lifestyle, or cooking book is a great idea that is both informational and decorative for the home.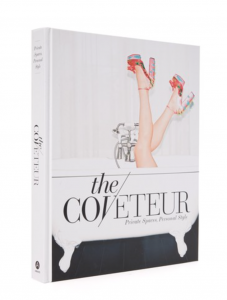 Gift giving for boys can be tough sometimes, so just stick to the basics and give them some winter gear they are bound to use this season. This set from UGG Australia is a great find on sale at Neimans right now.
For younger boys, fun tech toys are always the way to go. Every little boy loves a great drone – this one from TRNDLabs just under $100 is a fantastic gift in a great price range.
Last but not least, we can't forget our four legged friends this holiday! These bark baskets from Harry Barker are full of treats for your furry best friend.