For your last but definitely not least important travel destination this winter, I've got you covered with everything you need for your European getaway. Europe is definitely not a place you want to be slacking on your style. You'll need to dress to impress everyday whether you're touring an art gallery or sight seeing. No matter what your European destination may be, here are some essentials you will need for any city.
First and foremost you'll need a great coat that will keep you warm while also being chic in cold weather. This one from Maison Scotch is a great find – very sophisticated style in a great neutral color that will go with any outfit.
You'll also need a lighter puffer jacket for a more on-the-go style. I love this style from BB Dakota because it is a unique twist on a comfortable look and extremely affordable.
You should also try layering some fun sweaters under your jackets to add a splash of spice to your look. I love this sunglasses sweater from Alice & Olivia – it's a great fun look that is sure to score some complements no matter where you go.
To go along with whatever jacket and sweater you pair together you'll need a great pair of tight jeans or leggings that will go with every look. A tight style like these from J Brand will keep you looking sharp and sleek.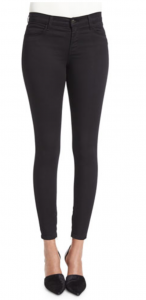 You'll also need a travel purse that you can grab quickly but doesn't weigh you down when you're on-the-go. This cross body from Longchamp is a great find; it can hold everything you need and is very versatile with any outfit option.
And lastly, make sure to find a great pair of boots that are comfortable to walk in but also structured to pull your look together. These black boots from Rag & Bone are a great find and worth every penny. They'll last a long time even trekking through the snow and will keep you looking chic throughout your travels.