This season is all about denim! The trend has found its way into various styles at all different price points. We've talked about denim before and have seen it in handbags and even shoes but here are some newer denim trends to try this summer.
The cropped flare is probably the newest trend on the scene, and one of my all time favorites. The cut is so versatile that you can pair it with a white tee for a casual day on-the-run or try it with a more polished blouse or blazer for a brunch or lunch date. The style also works just as well at night with your favorite heel of any height.
The culottes look is similar to the wide leg flare but even more fashion forward. It's an easy way to make a statement at any lunch or day party and an easy solution to wearing jeans in the hot summer sun since it gives your legs more breathing room.
You can also channel your 70's look with bell bottom flares for a chic but casual on-the-go style. Pair it with a baggy blouse or more form fitted top and you'll be ready to bring retro back in style.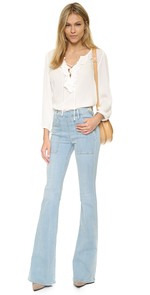 For a more routine outfit that you can throw on mindlessly, a great cropped roll up pair of jeans or boyfriend jeans is a great look that is ultra easy to wear. Pair with any tee and a pair of flats or trendy sneakers and you're ready to run all of your errands in style.
As I mentioned before, the denim look isn't only in pants this summer but in all sorts of styles. Denim skirts are back and chicer than ever before. You can find denim skirts at every price point; even high end fashion houses are styling this trend.
We're seeing the denim skirt trend in all sorts of washes, lengths, and with all sorts of embellishments drawing inspiration from an old style to make it modern.
Denim tops have also made their way to the fashion scene. With denim on denim becoming a huge trend or denim tops paired with summery skirts for a colorful and seasonal look.
I've even seen the trend in bathing suits. This unique look will certainly set your swim suit apart from the rest at any pool day, barbecue, or beach day you have in store this summer.
Needless to say, denim is a trend you will not want to miss out on this summer. Try out some of these styles and see how they can make their way into your wardrobe. Trust me, you can find a way to wear denim for any occasion this summer!