Summer is officially here and it is time to hit the beach in style! The question I get asked most frequently this time of year is how to dress for an all day affair – when you're going straight from the beach to lunch or dinner, it's often hard to dress for both occasions. However, you are not to worry. Here are a few essential items for this summer that will make your daily transitions comfortable and easy for your on-the-go activities.
First off, you'll need a great cover up for days you're going straight from the pool to lunch. Caftan styles are quick and easy to throw on and give great coverage so you are comfortable for the rest of the day.
A mini or mid-length cotton dress is also an essential for your closet. They are a bit more structured so a good choice if you are leaving the beach or pool for another activity. It's also a good idea to invest in a beach dress that is a bit dressier. This style (right) is great for a dinner by the water or a lunch date while the kids play in the pool. It's a more structured look and can serve as a dress without being a cover up.
Now that we've covered what goes over our bathing suits, let's get to the swimwear itself. There are a variety of styles to choose from as I have blogged about before. There is a swimsuit style for every body type. Find a suit style that you are most comfortable in and go for a print or pattern that makes you feel bold and beautiful.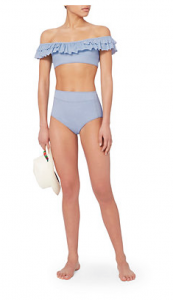 For days you won't be at the beach and want a chic summer style to sport, rompers are always a good idea. They are breezy, comfortable, and great to walk around in under the sun.
You'll need a great pair of versatile sandals you can pair with all of the above looks. Slip ons, espadrilles, tie-ups…there are so many styles to choose from that go with almost any summer look you will wear.
Accessories are just as important as clothes when it comes to summer fashion. Have fun with even simple items like hats and towels that you don't usually put thought into. Keeping all your beach items stylish will make your overall summer look infinitely chicer.
Sunglasses and handbags are two of the most important accessories that will pull your look together. Making a statement with these two items can make the simplest of outfits ten times better.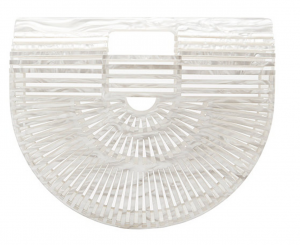 Now that you have all of your summer essentials, go out and enjoy them! All of these looks are meant to be comfortable and practical to have an active and stylish summer in the sun.