I've seen a lot of funky styles this spring…especially when it comes to shoes. The futuristic look is in when it comes to sneakers and active wear and even cowboy boots have made their way back in style. While some looks might be too runway to sport day-to-day, here are my top 5 favorite styles that are easy to incorporate into your daily wear.
PLASTICS:
I have seen this look everywhere and I've got to say it has grown on me. You will see plastics are huge in accessories this season, especially in shoes. This trend is an easy way to immediately make an outfit fashion forward. Pair a plastic mule or heel with a sundress and you are ready to go for a stylish day out.
 BOLD COLORS: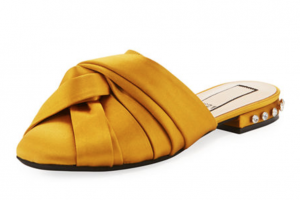 Bright and bold colors are in fashion in all styles. From your head to your toes, don't be afraid to make a statement with your color palette.
CURVY HEEL:
The curvy heel trend is a subtle way to be fashion forward with your street style or when you dress up this season. If you're not into the bold trends this spring, this may be the style for you. The perfect way to add a simple touch of runway to your everyday style.
FEATHERS:
Another simple touch of high fashion to spice up your outfit. This is a great look for nights out to dinner or any evening event. It's an elegant touch to any classic style heel available at all price points.
WHITE:
There's a short window of time that you can sport white shoes so take advantage and wear them now. From heels, wedges, mules, or flats you can wear any style shoe in white and rock a fashion forward look.