Spring is almost officially here so it's the perfect time to talk about the 2023 spring fashion trends. What to shop for, what trends to potentially bypass, and everything in between.
But before we get to the good stuff, I just wanted to take a moment to talk about the word "trend". Trend by definition is what is currently in style. It's what the designers forecasted a long time ago, and what the retailers buy that they believe their customers will want. But what does this mean for you?
If you are on social media, you probably already know what's trending for spring, and maybe you have a made a shopping list already. However, it doesn't mean you should buy every trend, thinking you will automatically look current and stylish. It's quite the opposite. Just because the influencer you follow looks great, or your BF is always wearing the current trends, they simply may not be right for you.
Lean into your personal style words and your lifestyle, both of which will guide you in the right direction. Also, please don't forget that before you start to shop for Spring 2023, you must do your closet edit to have a clear vision of what you need and what new pieces and trends will really give you a working, cohesive, and stylish wardrobe that aligns with you! I even have a free ebook to help you DIY your closet cleanse. And of course, I am always here to help you filter the overwhelm!
Spring Fashion Trends for 2023 
Elevated Day Dressing
I've featured a lot of this style of dressing on my social media the last 2 weeks. Think satin, embellishments, metallics, soft suiting all of which take you from day to night easily this season. And yes, this includes your sequin skirt that you only wear around the holidays 🙂
Shop the spring fashion trend:

Tailored Clothing
Soft suiting is as big for spring as it was for fall. Think lighter shades and fabrics for the warmer temps. If you feel too buttoned up in a slim tailored suit, opt for longer, looser fitting jackets and wide leg pant silhouettes. But be careful how you wear this style, because you could look like you are in an ill-fitting suit. If you decide to go oversized, make sure to wear a heel to elongate your silhouette.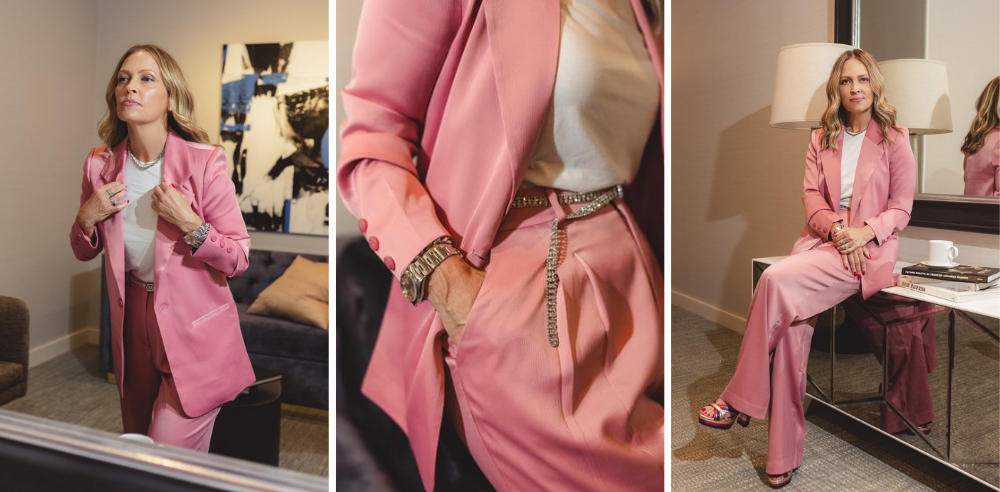 Shop the spring fashion trend:

Corset Dressing
This will not be for everyone; however, a beautiful lace corset is gorgeous under a tailored blazer or leather jacket. You will see dresses with the corset built in, which is a great way to incorporate the trend without looking like you are in full lingerie.
Shop the spring fashion trend:

Oversized Patterns
Saying goodbye to delicate florals for now and hello to bolder colors and prints this season. If bold patterns aren't for you, then stick to your solids but try them in the colors of the season!
2023 Spring Colors:
Shop the colors of the season:

Sheer
This can be hard for the average person to wear. However, if you like the idea, try it with a beautiful blouse with an interesting bra underneath for evening, and for day put a pretty silk cami underneath. The sheer dresses and tunics can work with denim or a great skinny trouser, but styling with a leather jacket or fitted blazer over might give you the perfect amount of coverage you need to be comfortable.
Shop the spring fashion trend:

Fringe
It's been hot and is continuing into spring. I prefer the more natural elements of the fringe I'm seeing now, but if you are full into your Nashville fringe then I say have fun with that!
I shared a video on Instagram where I transitioned a fringe skirt for the day to night (keeping with the elevated day dressing trend)!
Shop the spring fashion trend:

Big Bags
Mini bags had their moment, and you will still see them as they are the best for accentuating an evening outfit, but seriously what do they do for us? Most women carry more than a lipstick and a credit card with them. The big bags this season are very exaggerated, and I think better for slightly taller women. If you are petite, look for sizes that are bigger to hold all your things but that work for your size frame.
Shop the spring fashion trend:

A few other spring fashion trends you will see in 2023:
Drapey Dressing
Bubble Hems
Ballet Flats
Cargo Pants
A lot goes for Spring 2023 and I'm here to help you decide what works best for you without the stress and overwhelm of doing it on your own.
Schedule your consult below to see how you can refresh for Spring! I'd love to work with you.