Whether you're lounging by the pool or sitting on the sand, we're all spending our summers by the water. It's easy to just throw on the first bathing suit and pair of shorts we see in our closet but try making your water wardrobe specific to your event this summer…
Beach:
If you're trying to get your summer tan on by the beach your style can be a little bit more casual. You can throw on a cute dress cover up that you can take on and off easily throughout the day. You want to make sure you're clad enough to walk around afterwards though; try to keep the see-through clothing for home.
You're also going to want to make sure your beach bag isn't only trendy but practical so you can bring everything you need with you. A great canvas or wicker bag is great for the sand and won't dirty easily.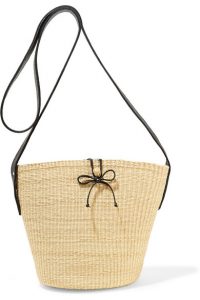 Don't be afraid to make a statement with your beach towel either! There are so many styles and colors to have fun with this summer. You can even get a towel  that wraps up easily as a beach bag for convenient trips to and from the ocean.
Cruise:
If you're taking a tropical vacation on a cruise for your summer travels you should find an outfit that you can wear just as easily indoors and you can by the pool. Find a chic pair of shorts and a top you can sport comfortably around the cruise but also take off easily by the pool.
You're also going to want some great sun hats you can wear either by the pool or while you're touring around your exotic destinations. Try Eugenia Kim or Rag & Bone for great classic hats that go with any outfit.
Sandals that you can use to walk around in are also essential for a cruise vacation. You're going to want to be able to come straight from town and right to the pool after a long day of sight seeing. A great pair of classic sneakers are also necessary for long days of sight-seeing.
Islands:
First thing is first, if you're on an island vacation you're going to need a great bathing suit. Depending on which style best suits your body you can go for a bikini, one-piece, or high waisted bottom.
You're also going to want great tropical dresses for dinner by the ocean or lunch on the sand. Any island getaway look calls for a more laid back style but that doesn't mean frumpy. Look for two pieces with a flowy skirt and more structured shirt, wide-legged pants, or a breezy dress that is great for slipping on after a long day under the sun.