Hopefully you've spruced up your closet after reading last week's blog. You've started the new year right by organizing your life and implementing an out with the old, in with the new mentality. As you take a look around your closet there are a few necessities you must own as part of your wardrobe. If not, it's time to go shopping! Here are some must have items that should be in every woman's closet:
Tailored Black Blazer:
Whether you work in a corporate environment or not, every woman should have a great tailored blazer ready to go at any time. It's the perfect item to add to your wardrobe as it dresses up even the most casual of outfits.
Long and Short Sleeved Fitted Sweaters:
Yes, even those of us in Miami need to have sweaters on hand. It's the perfect go-to item to throw on with jeans, trousers, and even skirts. They can be paired with pretty much anything and you can dress them up or down for any occasion.
White and Black Tees:
Having a good quality t-shirt in your closet is imperative. This is the item in your closet you will probably use the most. You want both v and crew neck styles in multiple colors so you can throw it on easily to start your day.
Jeans:
Every woman needs at least two to three great pairs of jeans that fit just right. Finding the right pair of denim can be difficult but aim to have a few different styles in your closet that make for different looks.
Pants:
In addition to your jeans, you need to have a few trousers on hand. There are multiple styles of pants that you can choose according to your body type. Maybe a skinny crop works best for you, a traditional pant with slight flare, a wide leg long pant, or even a short trouser. You choose which styles you prefer and have at least two in your closet at all times.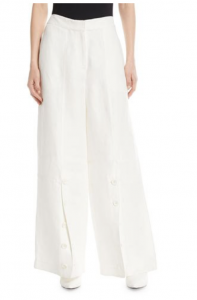 Leather Jacket:
Having a leather jacket is like having a LBD in your closet: it's simply a must. If leather isn't your style, then you need to have a great outerwear piece you can wear from day to night. I love leather jackets because they look great with jeans or a dress and tie together almost any look.

Winter Coat:
Though we don't get much use out of them in Miami, you still need a great winter coat for when you travel to colder climates. A coat doesn't have to be plain and simple, there are plenty of styles that can make a bold statement.
Versatile Dresses:
You need two to three versatile dresses that transition from day to night. Something you can wear with flats for a lunch then throw on with heels and a jacket for a night on the town. I love a versatile closet with staple items you can wear for multiple occasions.
Evening Dresses:
In addition to versatile dresses you need one or two excellent evening dresses you have on hand in case something pops up. It can be a little black dress you love that never goes out of style or a classically elegant dress you know you can wear over and over again. You never want to have to miss out on a stellar event because you didn't have the right dress on hand.