I always tell my clients the most important thing about an outfit is the fit! As a stylist, I work with clothing at
all price points
. When it comes to building a wardrobe there are items you should invest in and other pieces to buy for less. In many cases, I don't think price necessarily means better quality. However, you do want to always look like you are wearing quality clothes and this is where your tailor comes in to save the day. Fit is the most important thing when elevating your wardrobe. My best advice would be to invest in a great tailor, it is definitely worth it. There is no need to take a hem job to an expensive tailor but when you are taking in, letting out, or changing silhouettes, a great tailor can create a perfectly custom fit!
Here are some of my best steps when it comes to tailoring: what to look for, what is necessary, and how to best fit your clothes to your frame.
1) Although longer sleeves are in style right now, that won't last forever. Tailor your classic jackets so your sleeve hits at the wrist or slightly below. If you are trying to re-invent your blazers at home, try a bracelet sleet or 3/4 sleeve. Also, make sure there isn't too much fabric in the sleeve.  This is very important as many jackets are made this way so you may need to slim it down.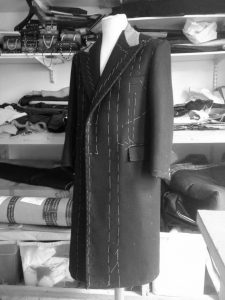 2) Pants must be tailored in accordance with the shoes you will be wearing them with. To forgo having to change shoes all the time buy straight legged pants, ankle length, or skinny pants so that your heel height will not make a difference to your look. As a general rule, pants should fit slimmer through your legs and thighs for a more classic fit.
3) Tops can be tricky to tailor because they should fit the way they are intended to. If you buy the wrong size to accommodate other body parts, the shoulder and/or neckline could be off which will make the shirt look too big on you, therefore making you look bigger. The shoulder seam should always hit at your shoulder. Also, avoid buying anything too tight where your bra line shows, chances are this will also make you look bigger. A good tailor can usually address most issues so that your top is a perfect fit for you.
4) It is imperative that your button downs do not pop open! This style is trickier for bustier women so try to buy the right size that fits your bust and tailor the rest or just stay away from the style all together. There are plenty of other alternatives.
5) I always stress to my clients that they must make sure their 
undergarments fit
. It is something we tend to prioritize last but should be one of the first things we think about. Undergarments should be the right style and color for your outfit. A bad choice in what's underneath, can easily ruin even the most stylish of outfits.
6) If your clothing looks impeccable but your accessories look shabby, your look will immediately looked cheapened. Shoes, belts and handbags should always be in perfect condition. If a designer bag or shoes are looking a little worn out, it is worth the investment in taking them to a shoe repair to get them buffed and vamp up your overall look.