Fall 2023 trends… There are so many this season that are wearable, I promise! In fact, one trend is wearable fashion.
The Fall runway shows never disappoint. It is fashion at its best with the amazing fabrics, textures, and layering. It's all eye candy to me. However, while streaming, you might find yourself questioning, "How am I supposed to wear that?" The truth is, you aren't really expected to; it's the creative expression of the designer showcased through an expensive production that only select a few coveted people to attend. Wearable clothes may not be as exciting on the runway, but this year is different. While you will always see glamorous, eccentric, and newsworthy outfits, many designers this year presented beautiful fabrics, and play on shapes and colors in silhouettes that we can all wear, minus the hefty price tag.
So read on to see how you can incorporate some of these trends with your everyday wardrobe, and feel current and stylish:
2023 Fall Fashion Trends
Ladylike Jackets
I'm a huge proponent of having blazers in your wardrobe. They pair well with almost anything all year round, making them versatile and a hero piece in your closet. I love the new ladylike versions, a nod to Coco Chanel herself. You'll find them in an array of fabrics like bouclé, tweed, leather, and wool. This style of jacket is perfect for daytime wear but can serve as a chic third piece for the evening when paired with a pretty camisole and jeans, transitioning it from ladylike to edgy. This piece will give you that very polished, stylish, boss lady look without being so tailored as your traditional navy or black work blazer.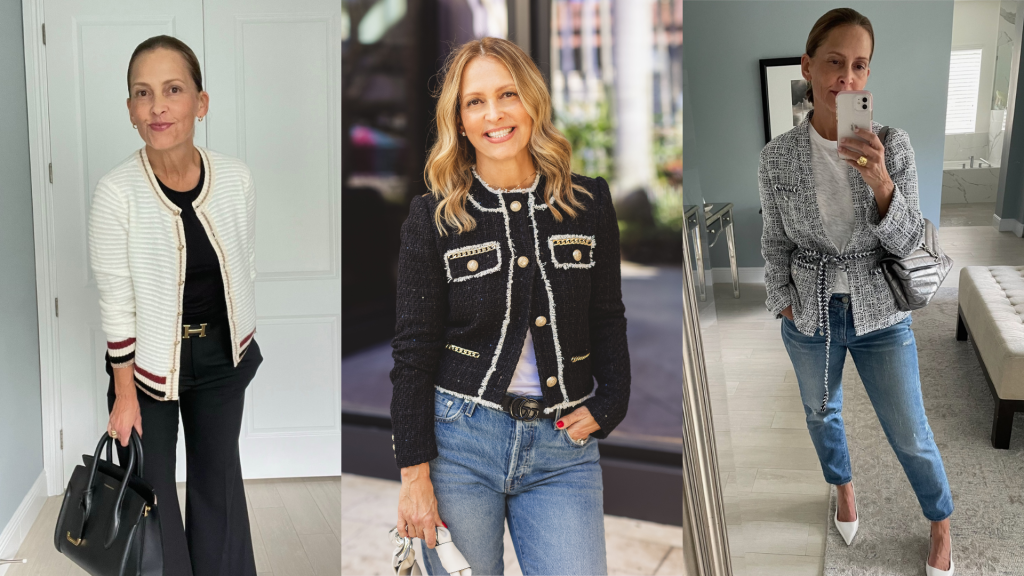 Shop Ladylike Jackets:

Architectural Jackets
If the ladylike blazer isn't your style, then consider the very fitted, almost architectural blazers this season. They offer an automatic waist and curves even if you don't naturally have them. I love this style, but it's not as easy to find or wear. However, it's going to work for many women if the length is proportionate to your body. This style happens to look like a designer piece even if you don't spend designer prices.
 Shop Architectural Jackets:

Metallics
Metallics are still the rage and I'm here for it! I own several pieces in metallic and they pair well with almost anything! They are the best way to make a basic outfit not so basic. If you are a jeans lady, then throw a metallic blazer or moto jacket over a tee, or invest in the trending metallic skirt, dress, or pants, pairing them with a blazer or a cardigan for a more casual look. If you aren't on board with a metallic clothing, opt for a slingback in silver or gold and up the style quotient of your basic pieces! Metallic shoes and bags are a neutral, so if you are tired of wearing nude or black shoes, I promise this is a game-changer.
Shop Metallics:

Prints
Of course, you will always see winter florals, meaning darker base colors with the colors of the season prints. This is always in style, but to be a bit more edgy this fall try the new animal prints— and I don't mean leopard print. This season you will see prints with actual animals in the print. Sweaters, dresses, and blouses are being offered in some of your favorite 4 legged animals. It's fun and a little more modern and youthful than your average floral blouse.
Additionally, prints are going geometric and bold! Tap into your creative side this season and try this trend in a blouse with your denim or a full print dress with a leather jacket. Add a fun shoe here as this isn't the print to play it safe.
Shop Prints:

Quiet Luxury
Monochromatic dressing or the mixing of neutral colors is the idea with this trend. It's about looking polished and tailored with finer fabrics and better fits. I subscribe to this style as it's the foundation for almost every outfit I put together. Elevated basics, not just your favorite Target white tee, in fabrics and styles with longevity, are key to a working wardrobe! For a more in-depth look at the trend of quiet luxury, check out my blog post.
Shop Quiet Luxury:

Colors!!
There are so many colors trending this fall, with my two favorites being red and yellow. They are both bold and bright, so embrace them however you are most comfortable. You'll see many shades ranging from burgundy reds to chartreuse yellows, ensuring there's a shade for everyone. If you're hesitant to dive fully into these bolder colors, try them in accessories. You might be surprised at how much wear you get out of a red shoe or bag.
Shop Yellow:

Shop Red:

---
Get Fall-Ready with KR Personal Style
Ready to infuse some of these trends into your fall wardrobe? Want your holiday, event, and travel outfits all shopped and styled? Let's chat! Click here to schedule your complimentary consultation!