I don't know about all of you but I'm pretty excited for this season's trends! This spring is definitely the time to have fun with your look and jazz it up as much as you'd like. This week I'd like to break down some trends focusing on blouses, jeans, and dresses – three items you will inevitably need as part of your wardrobe.
Blouses:
This spring is definitely the time to have fun with your tops. I've seen so many different kinds of styles that all create completely different looks. You can go with long or cropped, ruffled or tied, corsets or bows, and definitely want to look out for exaggerated sleeves. You can find these styles pretty much everywhere at all price ranges. Try Zara for modest pricing or splurge at Intermix for quality pieces you can wear for longer.
Jeans:
We're seeing a major denim makeover this season embellishing the classic look. Sequins, embroidery, and fringe are definitely in vogue. These looks are so fun and some of my favorites but don't over do it with embellishments from head to toe. If you're going for a funky pair of jeans, keep your top simple and make sure to accessorize modestly. For really funky looks that will probably be in fashion for a short time, I'd keep the price range modest so you can invest in more classic pieces. Look to Topshop for great denim pieces that are priced modestly but still retain quality.
 Dresses:
Feminine and flirty is the look we're going for this spring. Florals, ruffles, and chiffon are the way to go. You can go short or long but make sure to keep your styles chic and classy. The daytime dress will be an essential this season: not only will it be fashion forward, but also an easy on-the-go outfit you don't have to think of pairings for.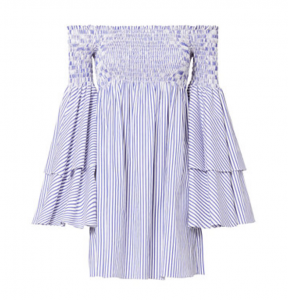 Overall….florals, sequins, and femininity are the running themes of
Spring 2017
. We're seeing this in almost every hot trend right now and should be seeing it in all of your closets!