Another one of my favorite trends that we've seen throughout the summer that is making its way into fall fashion is the long vest. Long vests, ponchos, and capes are a great way to start your fall wardrobe because they are easily paired with a variety of styles.
Wool vests will definitely be a must have for this upcoming fall. This style is perfect for Miami temperatures because it gives the look of a fall coat but can be worn in warmer weather and we all know Miami temperatures never drop too low.
On the other hand, ponchos are a great find for traveling to colder climates as they can be worn throughout the day or night. A great neutral colored poncho can be paired with dark denim and boots in the day time for a cool and casual look or paired with black pants and a tall heel for more sophisticated nighttime attire. I suggest getting a great black, brown, or grey poncho that is easy to mix and match with a variety of styles.
Capes are also a great look for cold weather temperatures. They are sure to keep you warm but great for daytime activities as they are easy to move in and not as bulky as your go-to coat. Similar to the poncho, they are easy to pair with almost any outfit and a great staple for your fall wardrobe.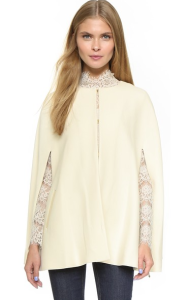 The fall patchwork trend embodying a vintage 70's style is also making its way into the vests we've seen on runways so far. This look might be a bit high fashion for everyday wear but is sure to make a statement once the climate gets cooler.
Also embodying 70's fashion, fringe is sure to be in style with all sorts of pieces. The long fringe vest gives some flare to a classic look and is a great accent piece to add to a neutral colored outfit.
Another style I love for cocktails or dinner party attire is the tuxedo vest. This look is inspired by menswear yet turns a classic look into a sexy and elegant statement piece for women. It pairs fabulously with satin pants and a blouse for a high fashion and sophisticated look that is sure to impress.
Vests, ponchos, and capes are a great way to stay fashion forward while still being practical in various climates. This style was a favorite for summer and will carry on into fall wardrobes as the best way to transition from season to season in style.